Last night my mom helped me cut out parts for 25 owls. We sat together and watched Breaking Bad with the Mr. (my mom had never watched it, and now she's hooked on season 4 episode 9).
It takes a village. It really does.
I got to thinking this morning about the blessings of support my teaching gets from the people around me. It includes my bloggy friends, too. I get so many great ideas and inspiration from the talented teachers who I read from every day.
I'm going to start a Gratitude Party. Every Thursday I'm going to say thanks to a blogger who has inspired me that week. Would you like to join me? The posts will look like this:
Today I am thankful for Kristin at A Teeny Tiny Teacher.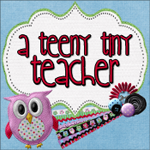 This blog post made me laugh! More importantly, she reminded me that I am not alone in my stressed world of August. Thank you, Kristin!
That's it!
Here are the guidelines:
1) copy and paste the link to the post that inspired you into your Thankful post
2) send your thank-ee a little note so that they can bask in your gratitude. We all love a little love, don't we?
3) use the button and link back to the Thankful Thursday Grateful Party post of the week
4) link up!
This first Grateful Party will start this Thursday. I can't wait to see
who
you are thankful for!