I have the
ultimate
Monday Made it. I don't think I can ever top this one.
I made a whole bedroom.
That's right. I Monday-Made a room.
It's like the teacher-bloggy edition of Extreme Makeover.
Backstory: when we moved into our house I chose the colors for my girlie's bedroom. Olivia told me she wanted a space theme, so that's what I gave her. All the colors of saturn with vintage moon maps and a solar system on the ceiling. She grew out of it very quickly. The colors really aren't her. To make it worse, she chose the littlest bedroom, and by little I mean teeny tiny. Her bed took up most of her room, she hated the vintage desk I found for her, and she had no where to store all her little treasures. This is what it looked like: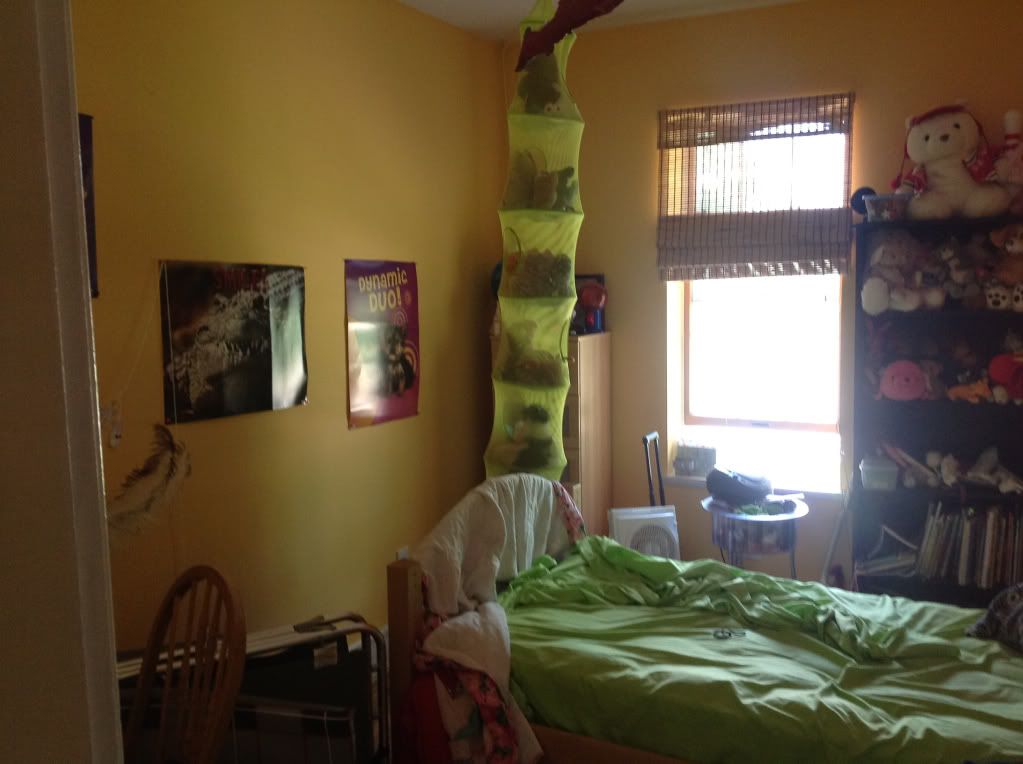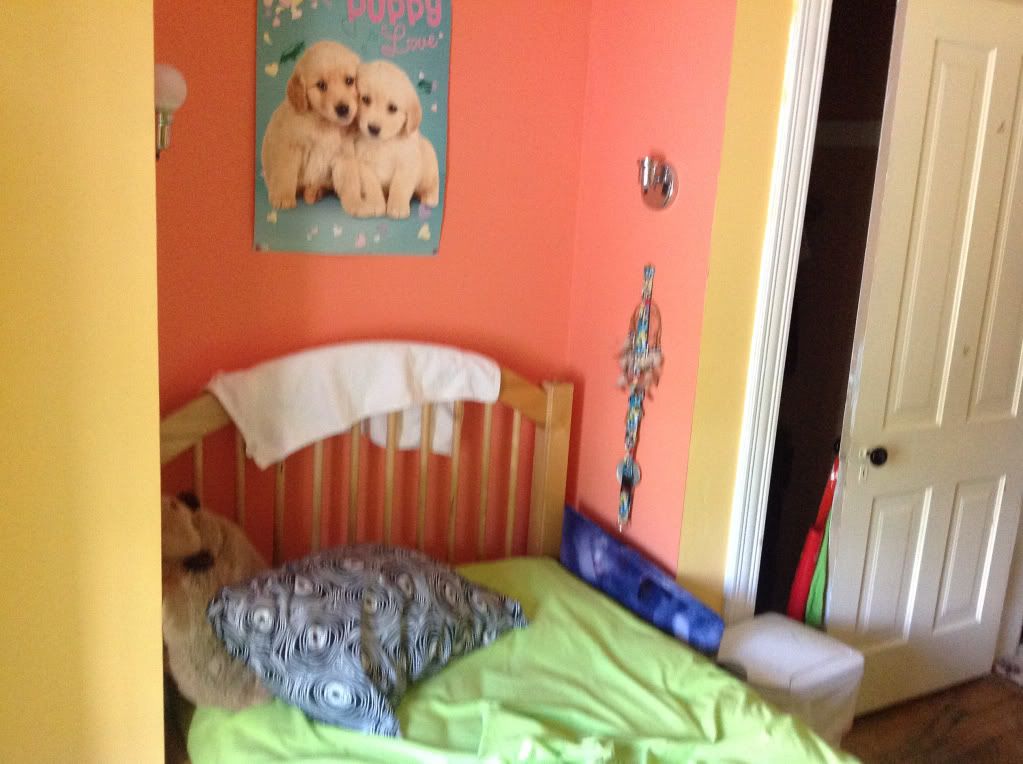 See? It's so tiny I can't even get a full photo. Tah-heeeeen-nee!! Itty Bitty! And messy...oops!
Last Thursday, I was struck with a brilliant idea. Looloo's birthday (Olivia/Liv/Livvy/Livvy-loo/Looloo) is June 24th (yesterday). What if I sent her away with my parents for the weekend (for a "birthday weekend extravaganza with Nana and Papa), and we totally redid her room?
I called on all the powers that be and
made it so
. We dropped her off at my mom's and got to work immediately. One trip to Ikea, a trip to Menards and two trips to Home Depot later....
But first, before the unveiling, you must see the card Bails picked out for Liv. It is Mustache happiness!!
And Olivia as she see her room for the first time....
and here is her new room: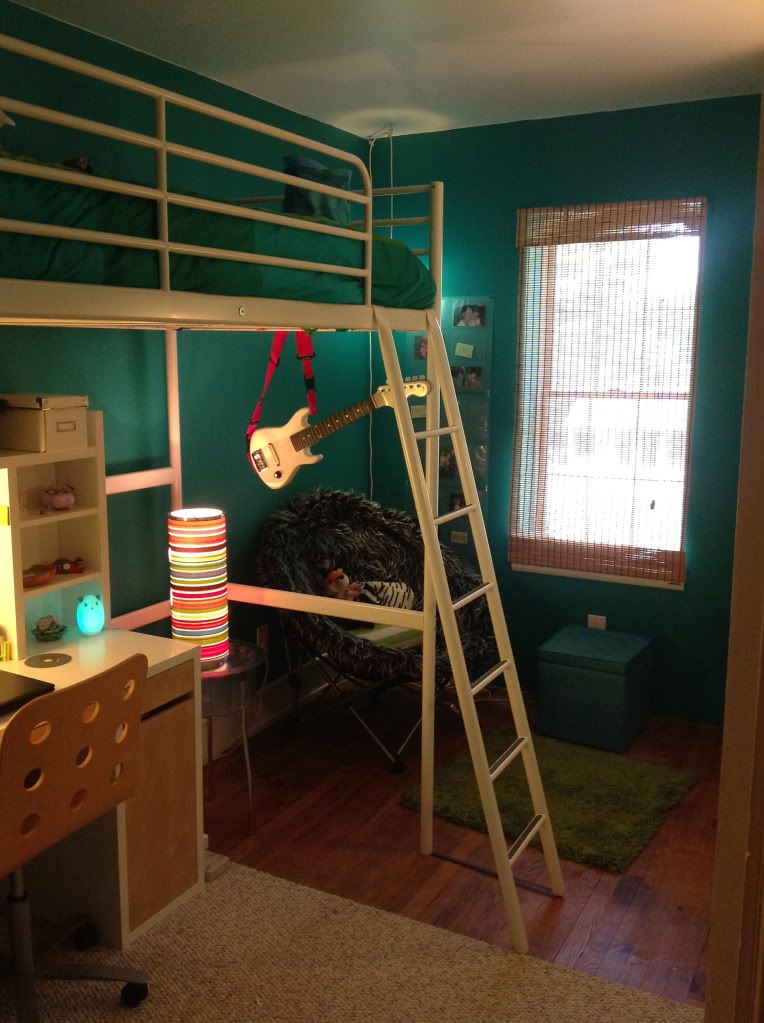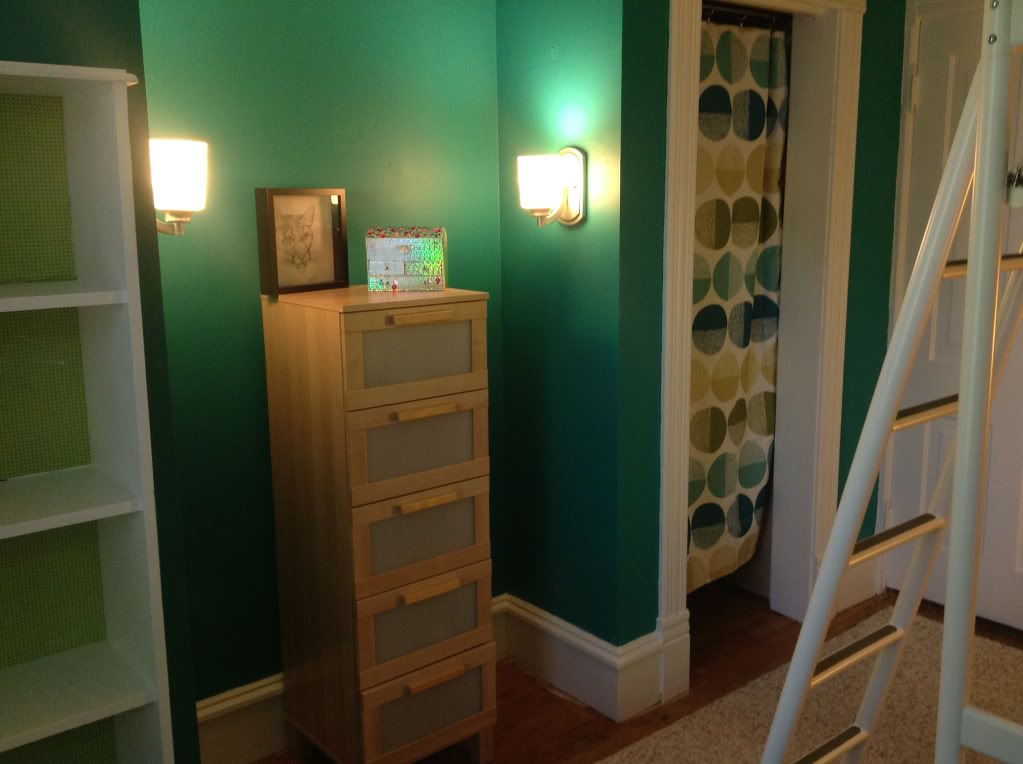 The color is one she chose before when we were at Home Depot looking at paint for another project. It matches her new comforter perfectly. See the curtain over her closet? She has been begging for a door on her closet for-evah. There are all these little pieces of fabulous like chalk-board clings on the walls, cool storage containers and boxes, new wall sconces, and the wonderfulness goes on and on and on. I want to live in her bedroom now!
And wanna see the best Made it Monday part? Her old bookcase was black, and looked like this: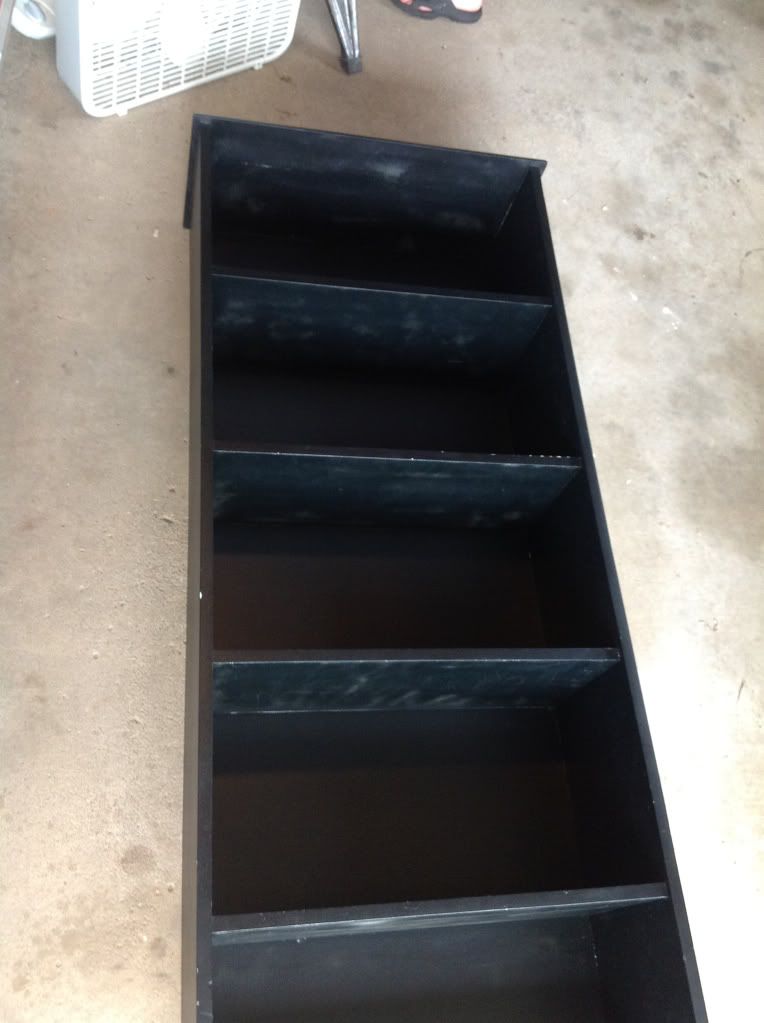 I took the paint sample to Archivers and picked out paper to Mod Podge it. Here's how:
1. First I painted the inside and top white. The sides and back didn't matter, so we left them alone.
2. Next, I measured and trimmed the paper so that it would fit perfectly.
3. I started at the top and spread Mod Podge over the space one piece of paper would take up. I used a wide brush to spread the MP. I was careful to not use too much.
4. Here is the critical step: I used a ruler to smooth the paper over and over and over. This is what kept bubbles, creases and wrinkles to a minimum.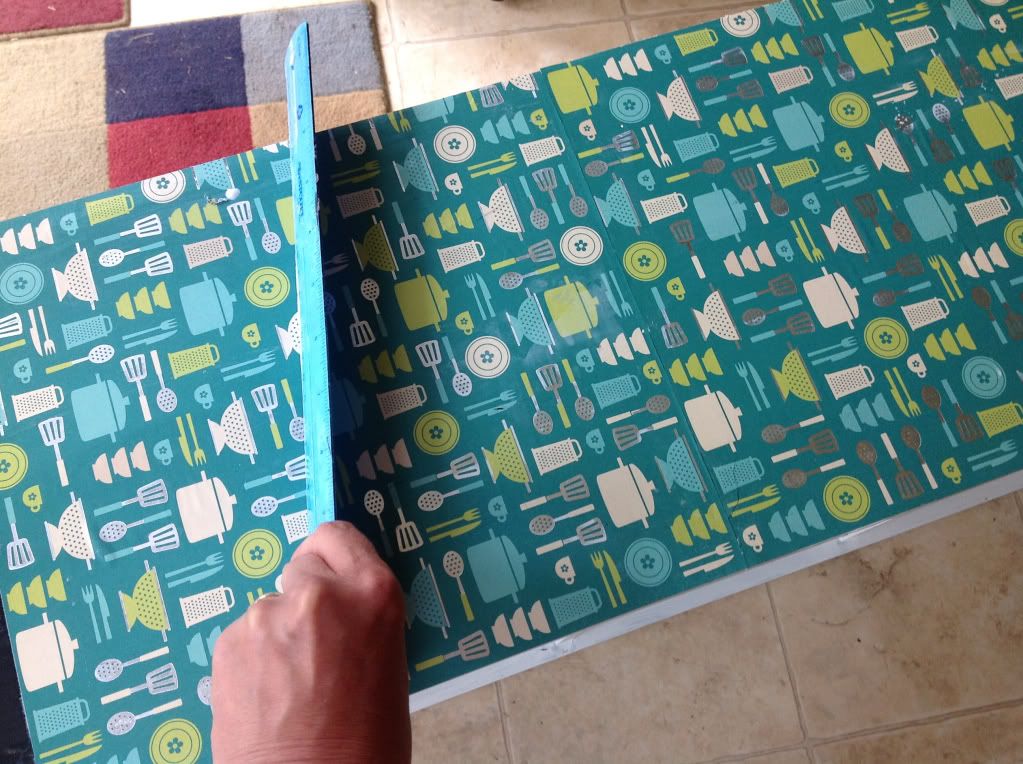 5. After the paper had dried, I added a top coat.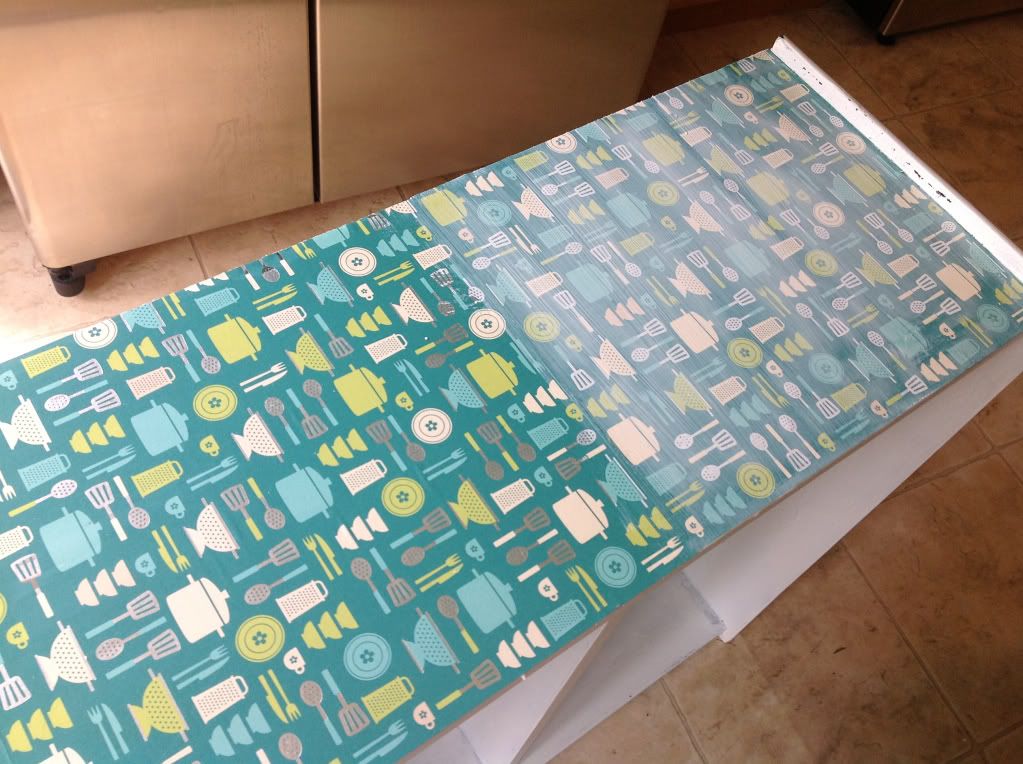 6. After letting it dry, I flipped it over and did the other side. The I turned it on its back and did the inside. Then I sprayed the entire piece with an acrylic fixative spray.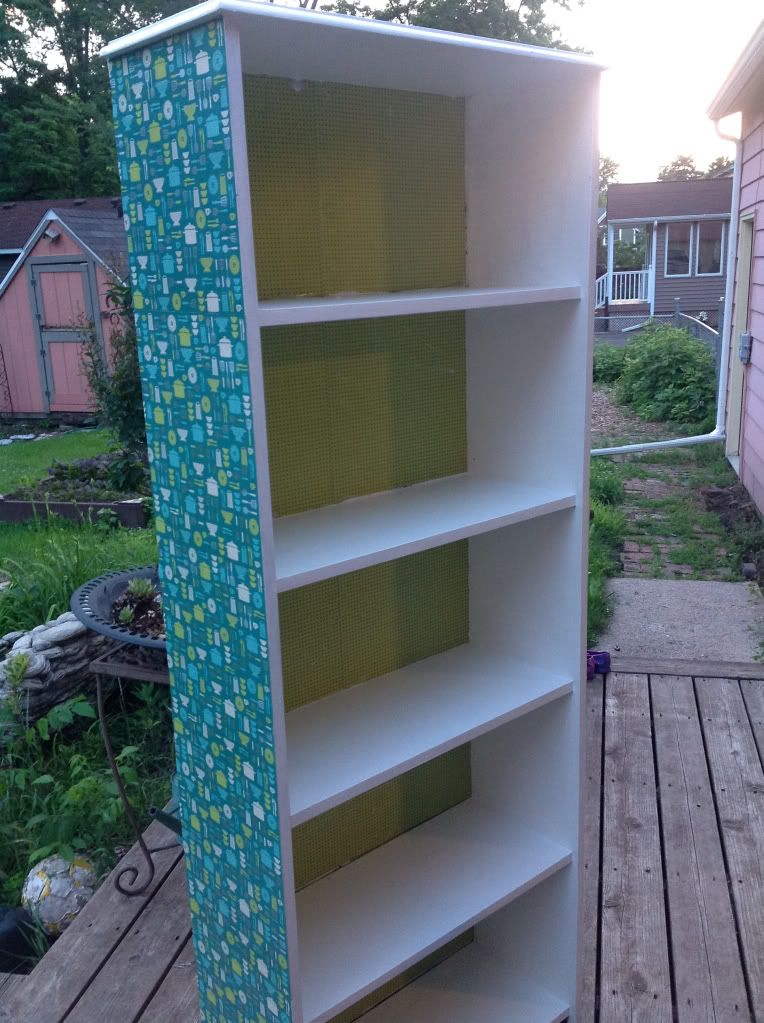 It turned out so fabulous that I am absolutely freaking out.